COVID-19 Auburn Area Response & Community Information
During this time of uncertainty and unprecedented challenges for businesses, our communities and region, Auburn Area CONNECT hopes to serve as a trusted resource providing up-to-date information and access to community services and programs for support.
On this page, you will find links to information on local news and updates concerning the COVID-19 response, local businesses currently open and operating, essential services, business/employment financial assistance programs, and community organizations in need. This list will be updated as more information is received. If you have any information to add, please email [email protected].

"HEALTHY WASHINGTON" REOPENING - ADDITIONAL DETAILS & INFORMATION
In early January 2021, Governor Inslee announced the new "Healthy Washington" plan to guide the reopening of the state in the midst of the ongoing COVID-19 pandemic.
Under the new plan, counties across the state are grouped into eight regions. To move into Phase 2, a region must meet three of four Recovery metrics:
1.  10% decreasing trend in case rates per 100K population over a 14-day period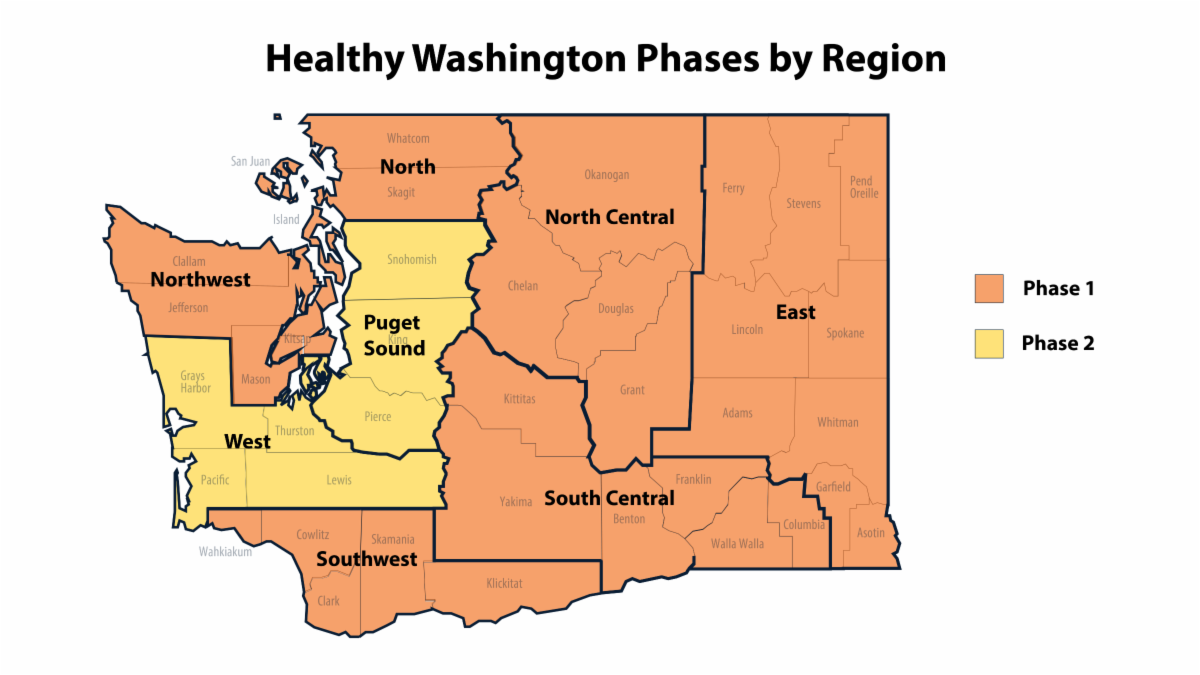 2.  10% decrease in COVID-19 hospitalizations over a 14-day period
3.  ICU occupanacy less than 90%
4.  Positive test rate less than 10% over a 7-day period

UPDATE: On February 1st, the Puget Sound Region, including King, Pierce and Snohomish counties, was approved to move to Phase 2 of the Reopening plan.
CLICK HERE for more information about the "Healthy Washington" Reopening Plan.
CLICK HERE for the complete presentation on the "Healthy Washington -- Roadmap to Recovery" Reopening Plan.
Vaccination Information

Washington has opened vaccination eligiblity to all indivdiuals in Phase 1A and Phase 1B1 of the distribution plan.
Among those currently eligible for the vaccine are those listed in Phase 1A (primarily healthcare workers) and Phase 1B1 (including those age 65+ and individuals age 50+ living in mixed-generation households, with some limitations) of the vaccine distribution plan. Click here to determine your eligibility with the Washington State Department of Health "Vaccine Phase Finder."
However, although Washington state has recently expanded access to the vaccine for older adults, it is important for everyone to know that, due to limited supply of the vaccine nationally and locally, not everyone who is now eligible will have immediate access to it. Access will improve as the supply increases and providers in King County receive more doses.
Click here for more information about the COVID-19 vaccine, including FAQs and links to flyers in over 35 languages.
In the meantime, we remain months away from our target vaccination rate of 70% of the state population. It is more important than ever that we work together to slow the spread of COVID-19. Please continue to follow all restrictions on indoor gatherings, stay home as much as possible, and wear a mask around anyone you do not live with (even close family and friends). If you do start showing signs of illness, or have been in contact with someone who tested positive for COVID-19, go into immediate self-quarantine and get tested.


AN IMPORTANT MESSAGE FROM MULTICARE
If you have upper respiratory symptoms (cough, fever or shortness of breath) and believe you need to be evaluated for COVID-19, please CALL FIRST before visiting a hospital, clinic or urgent care center to determine if you need to visit a specific site for testing.


Feeling sick but not sure if you should go to the doctor?
Visit the MultiCare COVID-19 Resource Center and complete the online assessment to evaluate if you're at risk and what the appropriate next steps should be. MultiCare offers e-visits to anyone who has COVID-19 symptoms through MultiCare Virtual Care, where our providers will help you navigate to the next appropriate step.

IMPORTANT INFORMATION FROM FEMA
As local businesses and organizations look ahead to the planned reopening of our state, FEMA has released a "Pandemic Response: Exercise Starter Kit" to help organizations plan for resuming operations. The kit includes a fact sheet, sample slides, and a facilitator guide with suggested discussion questions that can be tailored to meet the needs of any organization or agency. CLICK HERE to access the Exercise Starter Kit.
Please Note: The Auburn Area CONNECT offices are currently CLOSED. If you are in need of information or assistance, please call 253-833-0700.