COVID-19 Phased Reopening Updates & Best Practices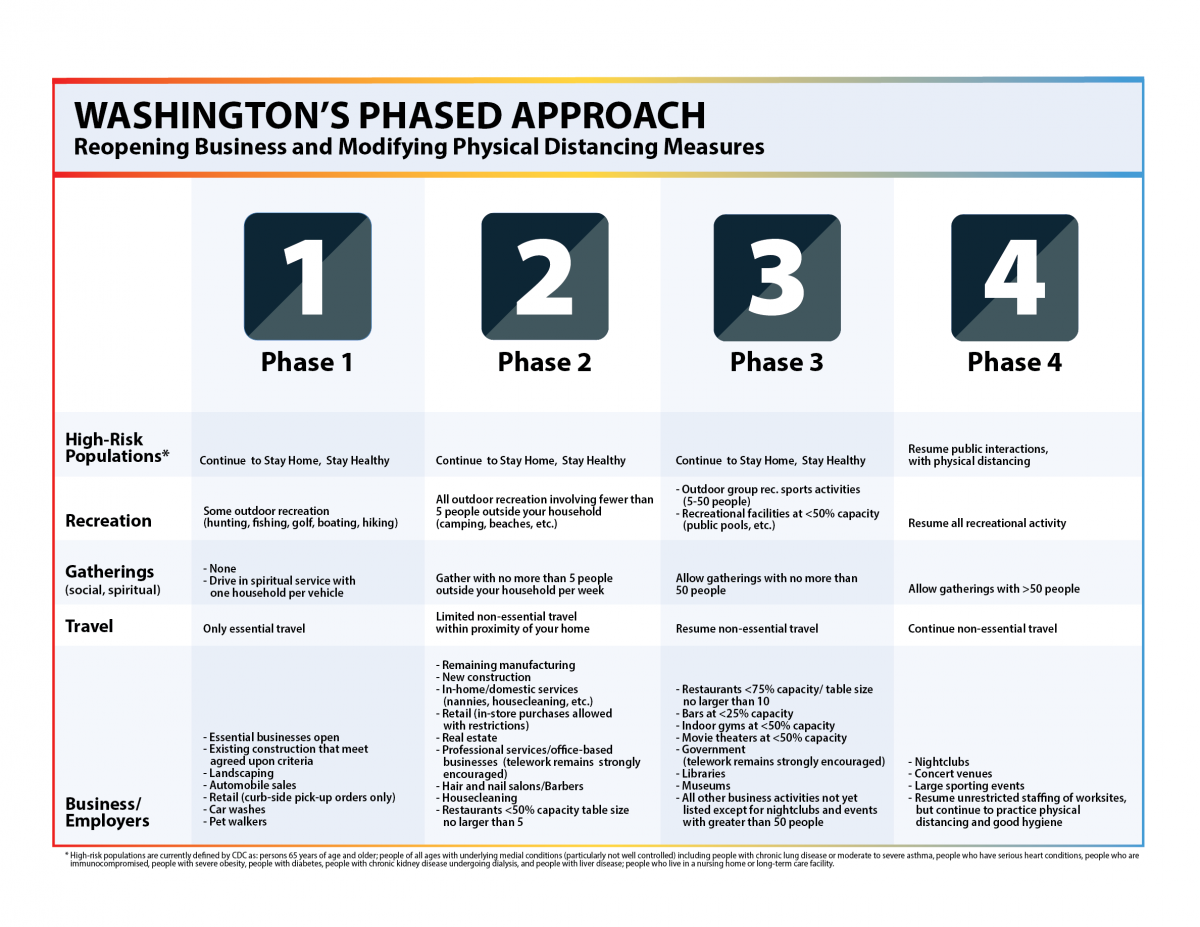 SAFE START REOPENING - ADDITIONAL DETAILS & INFORMATION
BUSINESS RESTRICTIONS:  Counties across Washington continue to re-open according to the "Safe Start" Plan's phased-approach overseen by Governor Jay Inslee. King County and Pierce County are both currently in phase 2 of reopening. CLICK HERE for more information on the state's plan to reopen businesses.
On June 27th, Inslee announced a pause on Phase 4 of the "Safe Start" Plan for those counties otherwise eligible in order to avoid a backslide into more restrictive measures as cases of COVID-19 continue to rise in other states. CLICK HERE to read more.
FACIAL COVERINGS REQUIRED:  Effective Friday, June 26th, face coverings will be required in all indoor public spaces, including most workplaces, and in outdoor public spaces where social distancing is not practical. This is a legal requirement. CLICK HERE for more information. 

RESOURCES FROM MULTICARE - "Myths vs. Medical Facts: Safely Returning to Work"
On May 14th, MultiCare Centers for Occupational Medicine made a presentation to the Auburn Area Chamber of Commerce how businesses in our area can plan to safely return to work and resume operations following the COVID-19 pandemic and phased reopening of the state. CLICK HERE to view the presentation slides.


RESOURCES FROM FEMA - "Pandemic Response: Exercise Starter Kit" to Plan for Resuming Operations
As local organizations look ahead to the planned reopening of our state, FEMA has released a "Pandemic Response: Exercise Starter Kit" to help organizations plan for resuming operations. The kit includes a fact sheet, sample slides, and a facilitator guide with suggested discussion questions that can be tailored to meet the needs of any organization or agency. CLICK HERE to access the Exercise Starter Kit.

RESOURCES FROM KING COUNTY
Minimize Risk During Reopening:  King County has developed printable posters for both customers and staff at grocery stores, restaurants, childcare centers and apartment buildings. The posters provide information and remind people of the steps that can be taken to protect themselves and others from transmission of COVID-19. Click here to access and print these informational posters. (Posters are available in multiple languages.)
COVID-19 Language Resources:  King County has included on their website information and resources about COVID-19 in multiple languages, including ASL/sign language. Click here to access this information.

RESOURCES FROM THE CITY OF AUBURN
Reopening Phase 1.5 - Restaurant Outdoor Seating:  The City of Auburn is permitting restaurants in the city to establish temporary outdoor seating on private property during the reopening process. Click here to apply.
Reopening Phase 2 - Determining Occupancy Limitations:  Phase 2 of Governor Jay Inslee's "Safe Start" plan includes occupancy load limitations on reopening businesses. Click here for information and guidance from the City of Auburn to determine your appropriate occupancy during the phased reopening process.

UPDATES FROM LOCAL BUSINESSES
FASTSIGNS: Multiple COVID-19 Germ Preventon Signs and Health & Safety Sign Packages available. Check out this Sign Guide for more information.
RAIL HOP'N BREWERY:  Open Tuesday-Thursday 2-7 pm / Friday-Saturday 2-9 pm
RAINBOW CAFE:  Open regular hours for socially distancing dining.
SERVPRO:  SERVPRO is ready to perform necessary services to clean, disinfect and sanitize restaurants and other local businesses as they begin resuming normal business operations. SERVPRO cleanup practices are in accordance with guidelines provided by the CDC and local authorities. Click here for more information.
The Outlet Collection | Seattle:  Reopening to the public on Friday, June 12th with modified hours: 11am-7pm, Mon-Sat & 12-6pm Sun. All entrances will be open and will have hand sanitizer available. Managment has increased cleaning and sanitizing procedures, especially at high-touch points. Click here for a map of store reopenings.
VINIFERA:  Socially distanced dining in the indoor dining room or the new, swanky outdoor "alleyway." Open Tuesday-Saturday 3-10 pm and Sunday 10 am - 2 pm for brunch.

MATERIALS AND RESOURCES TO ASSIST REOPENING
Impact Washington has begun providing no-cost Preventative and Preparedness Assessments to help manufacturers return to work. Using funds authorized by the CARES Act signed by the President in April, NIST issued awards to Manufacturing Extension Partnership (MEP) centers for COVID-19-related projects. Click here to learn more.
AWB PPE Connect has created the PPE Marketplace to connect businesses with manufacturers who supply PPE, providing the opportunity to purchase equipment for staff and employees. Click here to order.
King County Small Business Assistance Program provides financial assistance and grant opportunitites to small businesses in unincorporated King County. Click here to learn more.
Lowe's-LISC Partnership Grant Assistance Program provides funds to help bridge the financial gap for businesses facing the challenges of the COVID-19 economic recovery. The grant program also provides guidance to help small businesses navigate the web of public and private resources currently available. Click here to learn more.
Click here for more information about financial assistance program open to small businesses during the COVID-19 crisis.